Happy Thursday! 
When I created my card for the Global Design Project Design Team Color Challenge, I started with this card…but wasn't entirely happy with it so I decided to create a second card that became my Design Team Submission.  Since this card was created, photographed and ready to go, I thought I would share it with you today!
Card Details:
Card Base:  Crumb Cake Cardstock cut to 5 1/2  x 8 1/2 inch. Scored/Folded at 4 1/4 inches for a standard sized card that fits perfectly in our Medium Sized Envelopes.
2nd Layer: Crumb Cake Cardstock, run through the Big Shot with the Holly Textured Impressions Embossing Folder.  I then colored the berries with my Real Red Stampin' Write Marker and outlined a few of the leaves with my Lemon-Lime Twist Stampin' Write Marker.  I wrapped the ribbon around the bottom portion of the layer before adhering it to the card base with Stampin' Dimensionals.
Embellishments: Coming Soon: Tutti-Frutti Adhesive-Backed Sequins in Lemon-Lime Twist, Lemon-Lime Twist 3/8″ Mini Striped Ribbon, Available Now: Lemon-Lime Twist 1/4″ Ombre Ribbon
Stamps: Good Tidings from the 2017 Holiday Catalog
Ink: Crumb Cake, Real Red, and Lemon-Lime Twist (Ink Pads & Stampin' Write Markers)
Tools:  Stampin' Trimmer, Paper Snips, Clear Stamp Block E, Snail Adhesive, Stampin' Dimensionals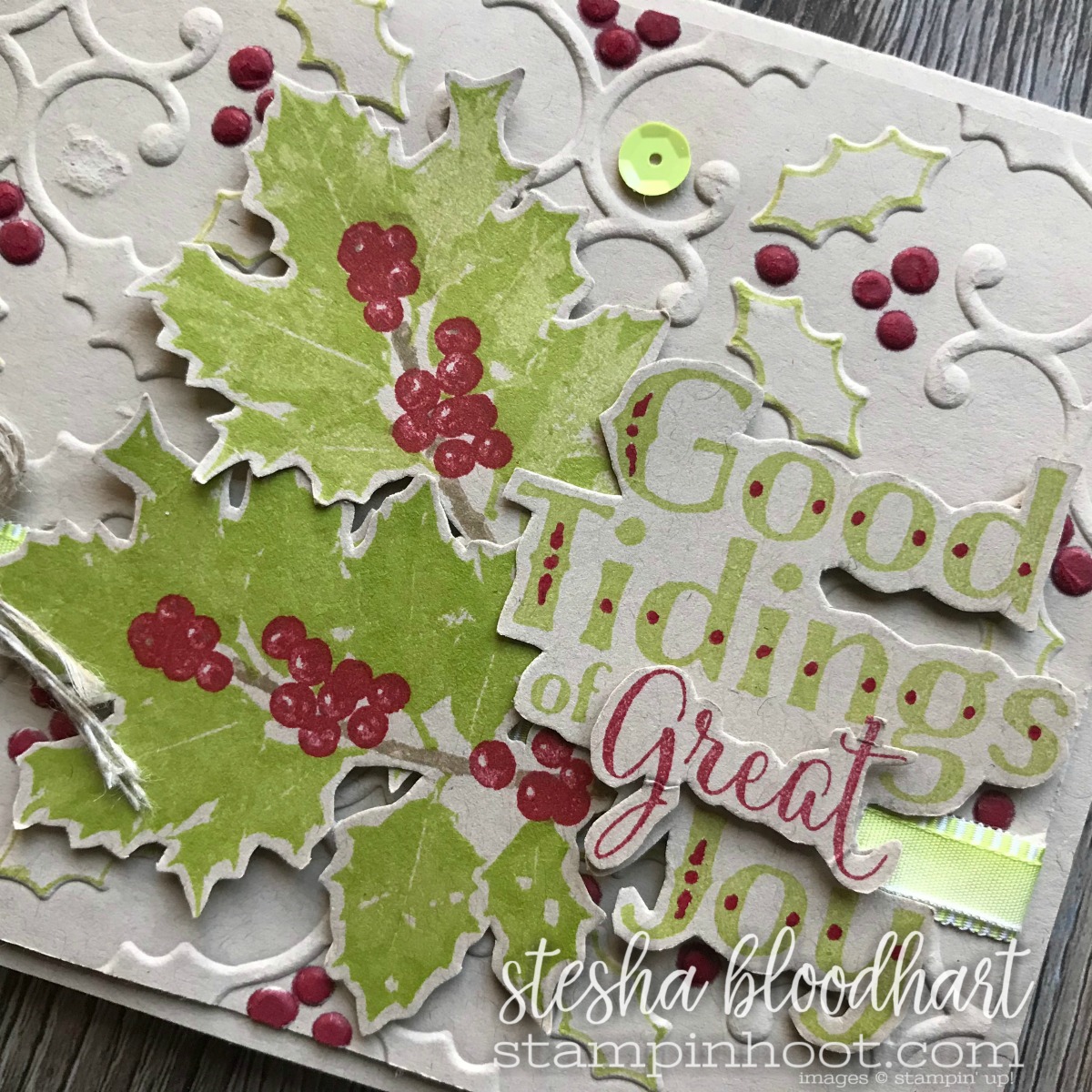 After looking at this card, I probably could have added an additional cardstock color behind the 2nd layer to help make it pop a bit more.  It was a quick and easy card, definitely duplicatable. I adhered the ribbon with Snail Adhesive to help hold it snugly in place and also pull it tight. That New Tutti-Frutti Adhesive-Backed Sequins is so easy to work with and can be added to a card in a flash. Be ready to order yours January 3rd, 2018 when the 2018 Occasions Catalog goes live.
Click on the images below to shop my online store or click the link below to print to pdf!
Need product now? Place an online store order valued at $50 or more (before shipping and tax), enter the host code JAXDSBH9 and you will earn the Paper Snips for FREE!
I love to hear your thoughts, please feel free to Comment Here!
Thanks for stopping by! Have a Hoot-a-Riffic Day!
Stesha
Hop Along! Oodles of Inspiration Awaits!
Welcome to the December Birthday's Blog Hop! A bundle of Stampin' Up! Demonstrators have decided to collaborate and wish all the peeps with a December Birthday a Happy One!  My son is one of them, celebrating on December 28th!  He will be SIX! What? How can he possibly be 6-years old already?  Time flies by way too fast!
I was having a hard time deciding what I was going to use for my birthday post.  I have a few items in-hand from the 2018 Occasions and Sale-A-Bration Catalogs and wanted to use one of them so that I could share the awesome products to be released on January 3, 2018.
I was going to use Picture Perfect Birthday Stamp Set but then decided that I wanted to share a Bundle of Products instead. So I went with the super cute Bubble Over Bundle.  The Bundle contains 17 Photopolymer Images with 19 Coordinating Framelits Dies, at $40.50, definitely a bang for your buck!   It also has Coordinating DSP called Bubble & Fizz that can be earned for FREE with a $50 purchase. The framelits are even sized to cut out the DSP images. The benefits of Sale-A-Bration are coming! YAY!
The Happy Birthday sentiment is from the Party Pandas Stamp Set, another Sale-A-Bration item, FREE with a $50 purchase! Since this card is going to be for my soon-to-be 6-year old, I didn't feel that the "Have a Birthday Brew" sentiment was appropriate! There are so many options available with this bundle, you can use it for Root Beer, Lemonade, Seltzer Water, or Beer!  I will share more with you as I create them!
I Love, Love, Love the all-new Glitter & Clear Epoxy Shapes. 176 adhesive-backed epoxy accents in teardrop and circle shapes, in a variety of sizes.  I added three of the glitter circles in two different sizes to my card flagged sentiment.
I have been on a rosette kick lately so I decided to use a piece of the Bubbles & Fizz DSP to create a rosette.  I cut it to 1 inch wide by 12 inches in length and scored it at every 1/4 inch.  I adhered the two end pieces together and formed the rosette, using hot glue to keep it together. I also added some of the new Bermuda Bay Picture Perfect Paper Ribbon to the back side of the rosette so showcase more new products. Do you like it?
Thank you so much for hopping by my blog today!  I hope I have inspired you with a birthday card you can make your own! Be sure to hop along to the next blog and be prepared to be WOW'd.
Click the images below to shop my online store!  Note: Some items are not available until January 3, 2018 when the 2018 Occasions and Sale-A-Bration Catalogs go live!
An Acetate Gift Box : Just Add Ink #389
Today I created a quick Acetate Gift Box using product from the Merry Little Christmas Suite (soon to retire) from the 2017 Holiday Catalog!  I based my design on the
Inspiration Challenge #389 over at Just Add Ink!
 I had yet to use both the Winter Wonder Textured Impressions Embossing Folder (retiring) and Acetate Card Boxes (sticking around). I am #madforplaid so I am sad to see the Merry Little Christmas Designer Series Paper retire, but now that I know how I can achieve my own plaid by using the Brushstrokes Background Stamp, I am good to go!.
I wasn't excited about the Green Sprigs from the Merry Little Christmas Suite, but I will say that I have fallen head-over-heels for them and have used up my entire stash (I even had to re-purpose to finish this project). Pair them up with the Mini Ornaments and the Jute Twine and you have the perfect combination for a rustic-feel creation. If you follow me, you know I am crazy about rustically themed crafts!
The Merry Little Labels Bundle (Merry Little Labels Stamp Set (retiring) + Everyday Label Punch (sticking around)) makes for quick and easy gift tags that look fabulous on any gift, and the Just For You Stamp makes it expand past Christmas themed projects. It also coordinates with the Labels to Love Stamp Set from the 2017 Holiday Catalog.  Here is a look at past projects that used the Merry Little Christmas Suite as well.
Like what you see and want to add the products used in this post to your crafting collection?  Click on the images below to visit my store or the link below to print a pdf.
Thank you for stopping by!  I love to hear from you!  Comment Here!
Have a Hoot-a-Riffic Day!
Stesha