In The City Hostess Set for TTTC004
Today's card was inspired by a flyer on my door.  We have a new neighbor from Texas who is a LuLaRoe Retailer (I have yet to try that line of clothing) and she left a note to introduce herself and her business…so I thought I would do the same by creating a card using the new In The City Hostess Set for a Welcome to the Neighborhood card.  Since a new Tic Tac Toe Challenge (TTTC) was announced, I decided to play along and apply it to this card. #tttc004
I decided to go with the middle row, but I could have used the diagonal row starting with accent and ending with In Color Ink as well. So I incorporated Blue: In-Color Dapper Denim: Ribbon, Bakers Twine, Cardstock and Ink.  Embossing: Clouds are done in Clear Embossing Powder and the resist technique was used with the watercolor application of the sky. Happy:  A Welcome to the Neighborhood card would make any new neighbor happy, right?
I have fallen in love with the Shimmery White Cardstock.  Using it for watercolor techniques has really helped me to incorporate shading with color and it can easily be obtained by using the Shimmery White Cardstock, Classic Ink and an Aqua Painter.
Card Details:
Card Base is Whisper White Thick Cardstock cut to 8.5 in x 8 in and scored / folded at 4 in.  I wanted the card to be short and long to really take on the look of a neighborhood.  The houses and trees fit perfectly on this size base and you only had to cut one way.
A piece of Dapper Denim Cardstock was cut to 8.5 in x 3.875 in and adhered to the card base with Fast Fuse Adhesive.
I cut a piece of Shimmery White Cardstock to 8.5 in x 3.5 in.  I stamped the cloud in Versamark, added Clear Stampin' Emboss Powder, melted it with the Heat Tool to create the shiny clouds.  I then added Dapper Denim with an Aqua Painter to create the blue sky.  I added Soft Suede (also with an Aqua Painter) to the bottom to create the look of the road.  I added a light layer all the way to meet with the sky.  Then I added an additional layer to darken it for the road.
I took the Clear Block I and put all the images I wanted to stamp, color and fussy cut. I stamped them all at once and three times with Basic Black Archival Ink on Shimmery White Cardstock. I colored them with Classic Ink and Aqua Painters.  The colors I used are the following:  Crushed Curry – Lights in Windows, Crumb Cake – Roofs and Doors, Wild Wasabi – Trees, and the Houses and Cars were done in Soft Suede, Cherry Cobbler and Dapper Denim. I fussy cut each image with the Paper Snips…ahhhh: Therapy!  All were adhered with Stampin' Dimensionals to give the look of a true street / block.
The flagged (use the Triple Banner Punch) sentiment was created by inking up only the 'welcome to our' from the Welcome to Our Block stamp.  I used Neighborhood instead since that was more appropriate for my card.
I added the

Dapper Denim 3/8″ Striped Grosgrain Ribbon

under the sentiment, flagged the one end to match and wrapped the other.  I took a small piece of Dapper Denim Bakers Twine, tied a bow and adhered it with a Glue Dot.
This stamp set is loaded with images and sentiments!  It is only available to purchase with Stampin' Rewards as it is a Hostess Set.  Stampin' Rewards can be obtained by placing an order of $150+; hosting a Virtual Facebook Party; contact me to find out how you can get this set added to your collection!
Haven't stamped before but want to give it a try?  Now is the time!  Flash Paper Pumpkin Sale! Get your first kit for $5!!  (Reg:$19.95).  It doesn't hurt to try it for $5, right?  My 5 year-old loves them! He takes it and makes it his own..but you have step-by-step instructions and EVERYTHING you need to make the project included in the kit! Click on the picture below to order!  It's only good until 11:59 PM MST or 12:59 AM CST.
Love what you see? Pin any picture on this page to your Pinterest Boards. You can do so by hovering over the picture and clicking on the  
 button in the upper left hand corner. You can see all my Pinterest Boards Here:  Stampin' Hoot! Pinterest Boards.
Note: You need to be viewing this post on my blog and not from the email in order to pin to Pinterest.
Today is the FINAL day to take advantage of the following deals:
LOVE FREE PRODUCTS?  GET A $35 BONUS!  June 1 – 30.  Place an order of $350 or more and get $35 in BONUS FREE STAMPIN' REWARDS!   Bonus applies to individual on-line customer order, as well as a workshop host benefit.  Details are shown below!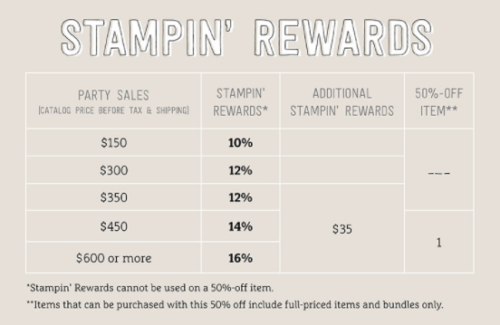 My FREE HOOT LOOT for June is Glitter Enamel Dots! See how to earn Free Monthly Hoot Loot by clicking on the photo below:
My list of products used in this post.  Click on the images to shop or click on the link at the bottom to print a pdf.

Have a Hoot-a-Riffic Day!
Stesha