Welcome to Kylie Bertucci's International Highlights Top Ten Winners Blog Hop!
Welcome to the Top Ten Winners Blog Hop! You may remember my post from a few weeks ago asking for you to vote?  Didn't see it? You can by clicking here: Masculine Happy Birthday Card, Please Vote for Me!  Well, thanks to all you wonderful people that took the time to vote, it did the trick!  I landed in the Top Ten and have the honor of hopping along with Kylie Bertucci, Australia's #1 Stampin' Up! Demonstrator, and the other wonderfully talented winners!
The theme is the same as the contest, which happens to be one of my favorites: Masculine! I used the all new Wood Textures Designer Series Paper!  I think that it easily adds masculinity to the card.  There are several different wood tones in the stack (as shown below).  My favorite to pair with the New In-Color, Lemon-Lime Twist, is the gray-washed, weathered tones.  I think they compliment each other very well!  The stamp set and dies I used for this card are part of a bundle called Colorful Seasons.  This is an extremely popular bundle among demonstrators and I think it will be with customers as well!
I like to add coordinating elements to my envelopes; I just think it helps with the wow factor of handmade cards.  For this matching set, I added one lone maple leaf to the front of the envelope (shown above) and covered the envelope flap with a piece of the Wood Textures DSP (shown below).
If you follow my blog, you know from previous posts that I LOVE LOVE LOVE to watercolor and the watercolor wash background is one of my favorite techniques.  When you use the New In-Color Lemon Lime Twist as the wash background, you get stunning results! Make sure to use either Watercolor Paper or Shimmery White Cardstock when using the watercolor technique, it handles water well.  (Whisper White Thick Cardstock does NOT watercolor well, you can see the grains of the paper.)
See that Maple Leaf peaking out from the inside of the card?  Just another simple way to step-up your card and wow your recipient.  Sometimes it's the little things, right?
Thank you for coming by my blog today! I know you are going to love the Top Ten Winners Blog Hop – You are currently at my blog Stesha Bloodhart, Stampin' Hoot!– so have a look at the hop list to see who is up next. Be sure to stop by every blog! Remember if you are a demonstrator and you want to learn new skills and be part of a creating community – this is an AMAZING opportunity for you to be highlighted and connect with others that create regularly. Click here to join in all the fun.
Blog Hop List

LOVE FREE PRODUCTS?  GET A $35 BONUS!  June 1 – 30.  Place an order of $350 or more and get $35 in BONUS FREE STAMPIN' REWARDS!   Bonus applies to individual on-line customer order, as well as a workshop host benefit.  Details are shown below!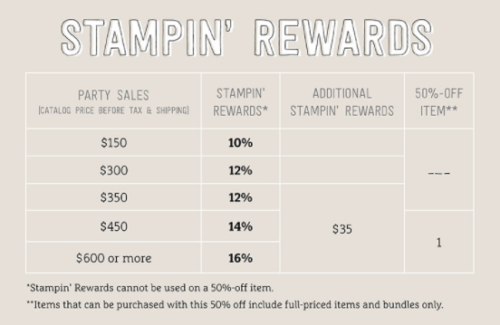 My FREE HOOT LOOT for June is Glitter Enamel Dots! See how to earn Free Monthly Hoot Loot by clicking on the photo below:
My list of products used in this post.  Click on the images to shop or click on the link at the bottom to print a pdf.