Happy Easter Everyone!  I am feeling generous so I decided to offer Aqua Painters as my FREE HOOT LOOT for the month of April!
How do you earn Monthly Hoot Loot? 
If your online store order is between $50 – $149.99; add host code YHRMGDXJ.  Make sure the host code is added to your order to ensure you get your Hoot Loot!
If your online store order is $150+; please skip the host code.  You will automatically qualify for the Free Monthly Hoot Loot!, as well as earn Stampin' Rewards on your order.
Make sure to check out the Stampin' Up! Clearance Rack and 10% OFF Bundles to get more bang for your buck!
The deadline to earn April's Hoot Loot is April 30!
Important Info:  The FREE Hoot Loot is mailed separately from your order and will arrive mid-month following the month earned.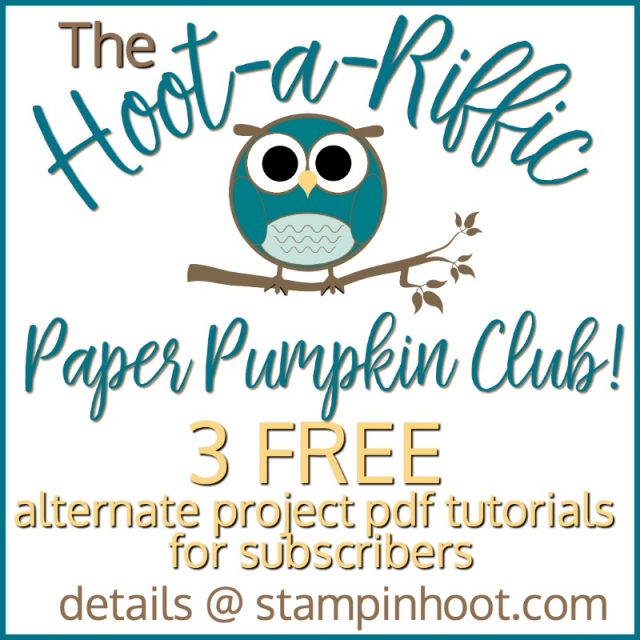 SIGN UP for Paper Pumpkin thru me and receive three FREE Step-By-Step PDF Tutorials with alternate kit ideas in the months you receive the kit.
How My Hoot-a-Riffic Pumpkin Club works:
Join by being my new or existing Paper Pumpkin customer in one of the two ways to subscribe shared below.
My gift for YOU!  Active club members will receive 3 FREE alternate Paper Pumpkin project ideas and Step-By-Step PDF Tutorials each month.
Your Paper Pumpkin subscription must be active through me on the 10th of each month (and a kit shipped to you that month after payment is processed) in order to receive my 3 FREE alternate projects and tutorials.
You will not receive FREE alternate project tutorials in a skipped month.
Your 3 FREE alternate project tutorials will arrive by email on or before the last day of the month within which your kit delivers.
Promotion is for new subscribers only
Offer is available March 11–May 10, 2018
Offer runs for 2 months
Use code SAVEFIFTY0418 at checkout
Discount is applied to one kit per month for the first two months of a new subscription.

How it works: A new customer can subscribe during April's subscription period from March 11–April 10 or May's subscription period from April 11–May 10 and receive the discount. If a new customer subscribes during April's subscription period they will receive 50% off their subscription when billed in April and May. If a new subscriber subscribes during May's subscription period they will receive 50% off their subscription when billed in May and June. If a customer suspends during their 2-month discount period, they will receive their discount during the first 2 months in which they reactivate.

Does not apply to prepaid codes
Click to Sign-Up for a Month-to-Month Subscription
Every creation I share, I also include a Step-by-Step PDF Tutorial that you can download or print to help you recreate it on your own! You can download all past PDFs by visiting my page here:  STEP-by-STEP PDF TUTORIALS
My facebook group, Stampin' with Stesha, is another great place to get additional tips, tricks, free stuff and exclusive promotions.  Join today, the first giveaway will happen soon: The Blossoming Basket Bundle.  Everyone is welcome to join!  Customers, Demonstrators, Etc!  JOIN STAMPIN' WITH STESHA
I'm still purging!  Lots of retired goodies still available!  THIS WEEK ONLY, I AM OFFERING AN ADDITIONAL 20% OFF any Retired Merchandise Purchase!
You can see all my retired goodies here:  RETIRED MERCHANDISE!
Have questions?  Contact me and I would be happy to answer them for you!
Have a Hoot-a-Riffic Day!