Place an online store order valued at $50 or more (before shipping and tax), enter the host code 3Z4NT3YS and you will earn YOUR CHOICE of ANY 1 EMBELLISHMENT, up to an $11.00 Value!
You can view all current STAMPIN' Up! Embellishments Here:  EMBELLISHMENTS
So, not only do you get a $5 coupon with a $50 purchase, you also get your choice of any one of the embellishments listed in the link above.  You can see all the details here:
The Color Your Season Limited-Time Products are available to order NOW!
August 1-31, 2018
Products available 

while supplies last

 until August 31, 2018. This means products will only be available until August 31 or while supplies last, whichever comes first. If a product's supply is depleted before August 31, it will be made unorderable and will no longer be available for purchase.
Get in the mood to create something full of colors and seasons! Introducing the all-new, limited-time Color Your Season products:
Blended Seasons Stamp Set, an exclusive 10-piece wood- or clear-mount stamp set with images for every season (also available in French)!
Stitched Season Framelits Dies, a coordinating stitched die that includes stitching on both the positive and negative images!
Watercolor Pencils in 10 new colors! Note: These Watercolor Pencils may be available in a future publication.
Please note: The bundle includes the stamp set and dies only. It does not include the Watercolor Pencils.
Bonus Days are BACK!  August 1st – 31st, 2018 Spend $50 and Earn a $5 Coupon Code to Redeem in September!
Details:
An email address is required to participate; Bonus Days coupon codes can be delivered only via email.
If you earn multiple codes from a single order, you will receive one email with multiple codes. If you earn multiple codes from multiple orders, you will receive separate emails for each code earned.
There is no limit to the number of coupon codes you can earn per order or throughout the duration of the Bonus Days earning period.
There is no limit to the number of coupon codes participants can use on an order during redemption.
Bonus Days coupon codes may be redeemed for any product (excluding Starter Kits and Paper Pumpkin Monthly Subscriptions.)

New prepaid Paper Pumpkin codes may be discounted with Bonus Days coupon codes.
Demonstrators can now view and order products from the 2018 Holiday Catalog!  I will be placing my order and sharing the products with you soon!  I am so excited to share what is to come!  The bundles and suites are amazing and I cannot wait to get my hands on them.
I will also be offering 2018 HOLIDAY CATALOG SHARES!  Details coming soon!
Need a copy of the 2018 Holiday Catalog?  Click on the image above to request your FREE copy!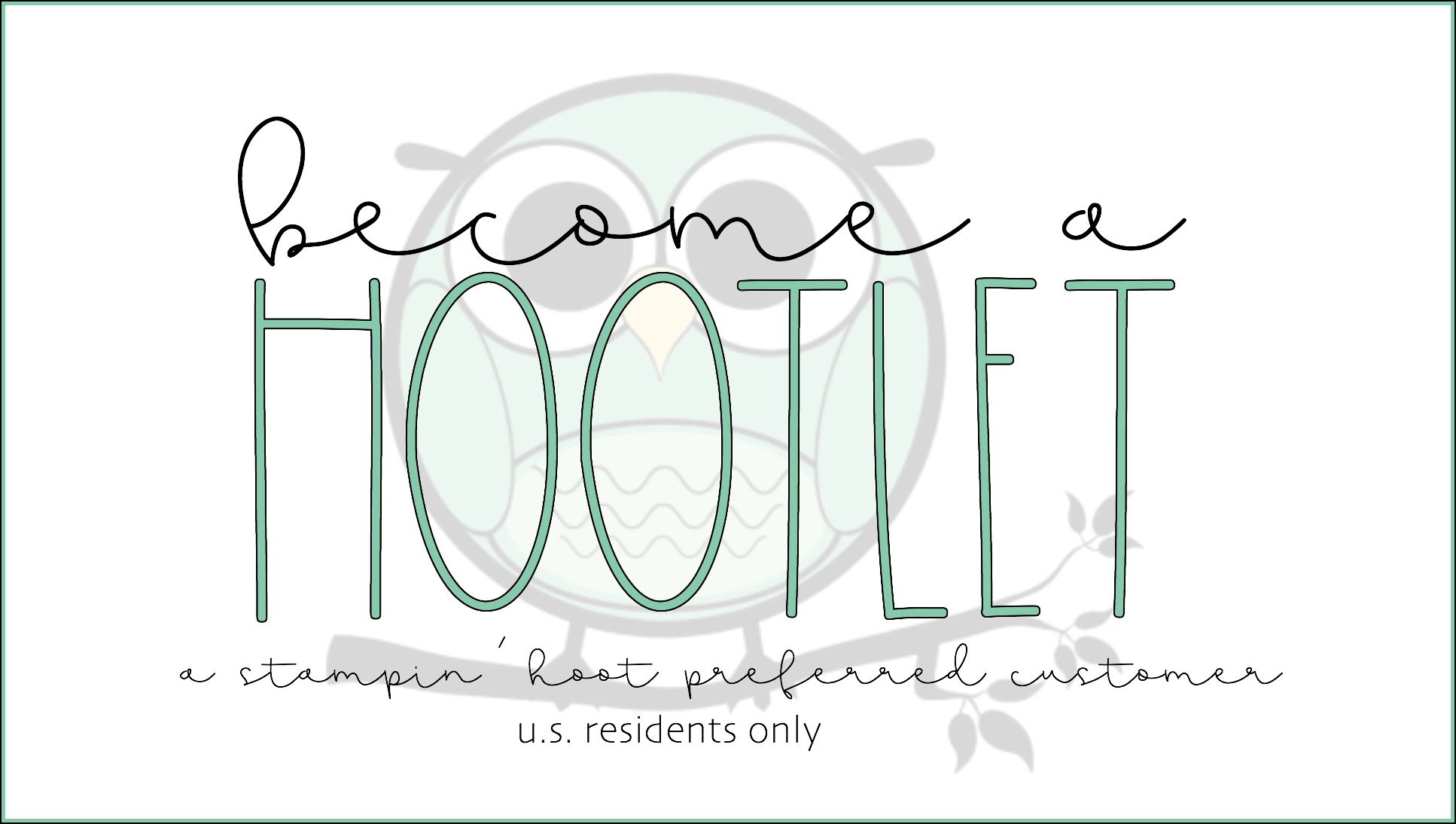 If you live in the US and currently do not have a Stampin' Up! Demonstrator that you order from, I would LOVE to be YOURS!  I spoil my customers and would love to spoil you!  Here are just a few of the benefits of becoming a Hootlet (Stampin' Hoot! Preferred Customer):
FREE Stampin' Up! Seasonal Catalogs – They will automatically be mailed to you with each new release. (Holiday Catalog and Occasions Catalog)
FREE Stampin' Up! Annual Catalogs – They will be delivered to your door, at no charge, with free shipping! This catalog is jam-packed with over 200 pages of products and ideas ready to inspire you to create!
Stampin' Hoot! Hootlet Rewards! – Want to earn more free goodies from me?  Become a frequent shopper with me, track your purchases and redeem your hoot points for a free shopping spree, valued up to $30!  Download your tracking sheet here:  Hoot Points Tracking Sheet