Sweet Cupcake with the Stamp Review Crew
Sweet Cupcakes!
The Stamp Review Crew is bringing you Sweet Cupcakes!  YAY!  I love this stamp set.  If you don't have it, what are you waiting for?
Step-by-Step Instructions:
With a Stampin' Trimmer, cut a piece of Whisper White Cardstock to 5 1/2″ x 8 1/2″.  Score and fold at 4 1/4″.
Cut a piece of Whisper White Cardstock to 5 3/8″ x 3 7/8″.
On a silicone mat, mix two drops of Lemon Lime Twist Ink Refill onto a quarter size dollop of Shimmery Embossing Paste.  Mix together with a palette knife.
Lay the Pattern Party Decorative Mask over the left-hand side of the Whisper White.  With a Palette Knife, spread the Lemon Lime Twist Embossing Paste as shown.
Cut a piece of Picture Perfect 6×6 Designer Series Paper (retiring May 31, 2018, or While Supplies Last) to 1/2″ x 5 3/8″.  Adhere to the back of the Whisper White Cardstock with Snail Adhesive.
Adhere to the card base with Stampin' Dimensionals.
Crop a piece of Basic Black Cardstock with the Swirly Die from the Cupcake Cutout Framelits.  Add a few touches of Multipurpose Liquid Glue and adhere to the card.
Crop a piece of Peekaboo Peach Cardstock (also Retiring May 31,  2018, or While Supplies Last) with your Big Shot and Magnetic Platform to hold it in place, using the 2 1/2″ Scalloped Square (Layering Square Framelits Dies) and the 2 1/8″ Stitched Square (Stitched Shaped Framelits Dies) nestled inside the scalloped square.  Adhere with Stampin' Dimensionals.
Crop a piece of Berry Burst with the banner die from the Cupcake Cutouts. Fold the flagged ends under (as shown) and adhere with Snail Adhesive.
Stamp the cupcake images (Sweet Cupcake Stamp Set, Retiring May 31, 2018) onto Whisper White Cardstock using the following colors:  Frosting – Coastal Cabana, Coastal Cabana and Bermuda Bay.  Paper Holder:  Smoky Slate, Basic Black, Basic Black.  Crop with the coordinating dies from the Cupcake Cutout Framelit Dies (Discounted and available through May 31, 2018 or While Supplies Last), Big Shot and Magnetic Platform.  Adhere the Paper Holder with Snail Adhesive.
 Add some Shimmery Embossing Paste to the frosting with a Palette Knife to the frosting some texture.  Adhere with Stampin' Dimensionals.
Crop the "Sweet" die-cut in both Lemon Lime Twist and Basic Black Cardstock. Run it through the Big Shot with Multipurpose Adhesive Sheets.  Adhere together, slightly offset, and then to the bottom of the cupcake frosting.
Stamp the sentiment onto Whisper White Cardstock, cut to size and flag the end with a Paper Snips. Adhere with Stampin' Dimensionals and Snail Adhesive.
Add Glitter Epoxy Shapes and Glitter Enamel Dots for a final touch.
I love Embossing Paste.  I finally cracked open my Shimmery Embossing Paste, added some Lemon Lime Twist Ink Refill and viola!  I have custom colored embossing paste to make the card pop!
Adding die cut elements to cards adds a WOW factor with little to no effort.  They are eye-catching and add so much to a paper craft project. If you do not have the Layering Shapes line of Framelits Dies, what are you waiting for!  They are my most used item in my Paper Craft collection.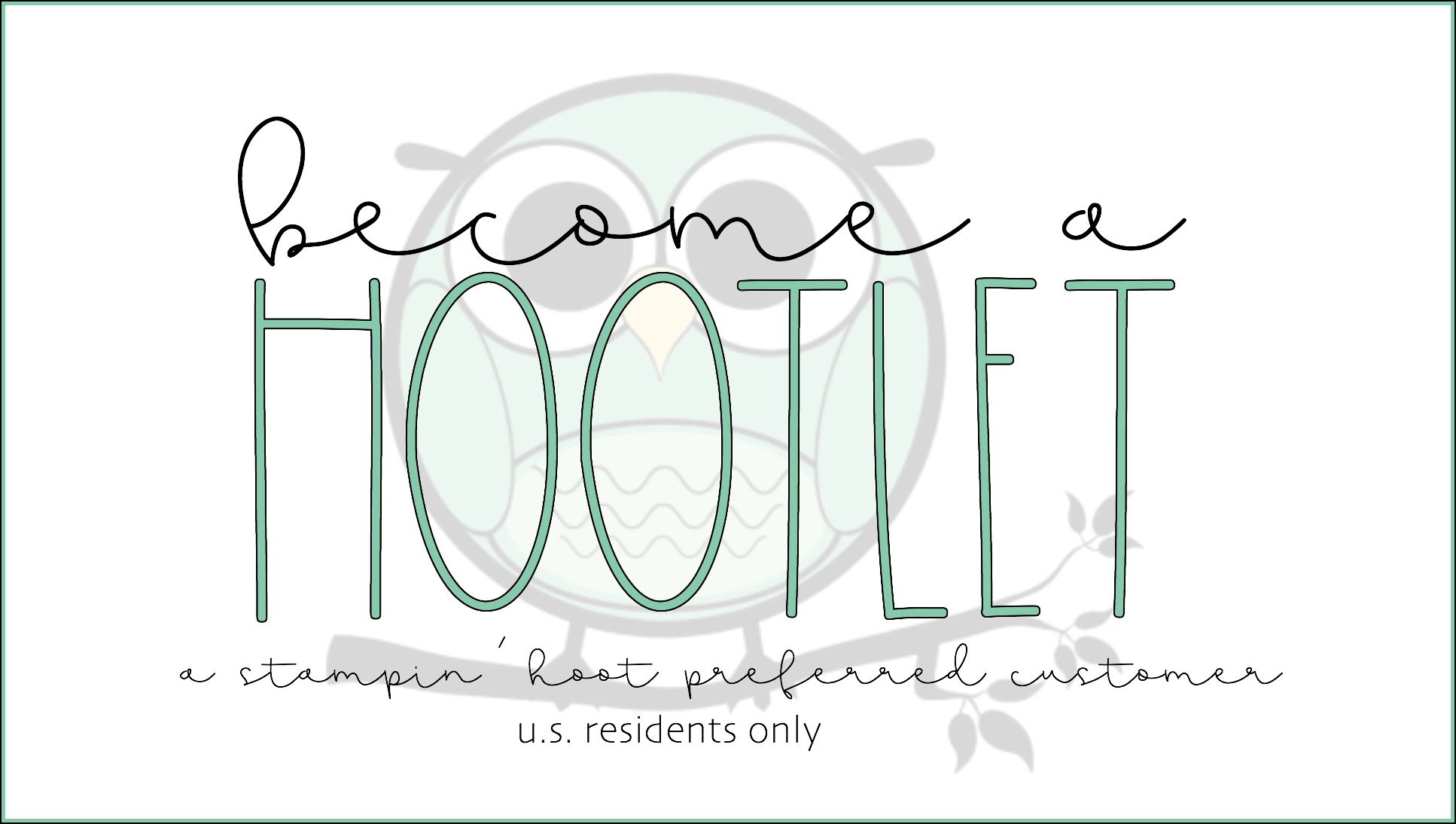 If you live in the US and currently do not have a Stampin' Up! Demonstrator that you order from, I would LOVE to be YOURS!  I spoil my customers and would love to spoil you!  Here are just a few of the benefits of becoming a Hootlet (Stampin' Hoot! Preferred Customer):
FREE Stampin' Up! Seasonal Catalogs – They will automatically be mailed to you with each new release. (Holiday Catalog and Occasions Catalog)
FREE Stampin' Up! Annual Catalogs – They will be delivered to your door, at no charge, with free shipping! This catalog is jam-packed with over 200 pages of products and ideas ready to inspire you to create!
Stampin' Hoot! Hootlet Rewards! – Want to earn more free goodies from me?  Become a frequent shopper with me, track your purchases and redeem your hoot points for a free shopping spree, valued up to $30!  Download your tracking sheet here:  Hoot Points Tracking Sheet
Click on the images below to shop my online store or click the link below to print to pdf!
<div><div><div id="063f8ff6-3c30-4ea0-91a6-d7a16eab44df"><iframe class="iframe-showcase" src="https://mystampinblog.com/Showcase/Details/427ba62c-043d-45d9-b99d-024c4914a5af?layout=Tiled&showSku=True&showPrice=True&showDownload=True&transparent=True&bordered=True&hFontHeight=12&rFontHeight=12&imageHeight=119&middleContent=True&supplyListId=9585fa48-28a4-4725-aadb-1e311b93f178" frameborder="0" scrolling="no" allowtransparency="true" style="width:100%"></iframe></div><script src="https://mystampinblog.com/Script/ShowcaseDetailsScript"></script></div></div>
Monthly Hoot Loot!
Place an online store order valued at $50 or more (before shipping and tax), enter the host code YMSFW99Q and you will earn YOUR CHOICE of a Current/Available EMBOSSING FOLDER FOR FREE!