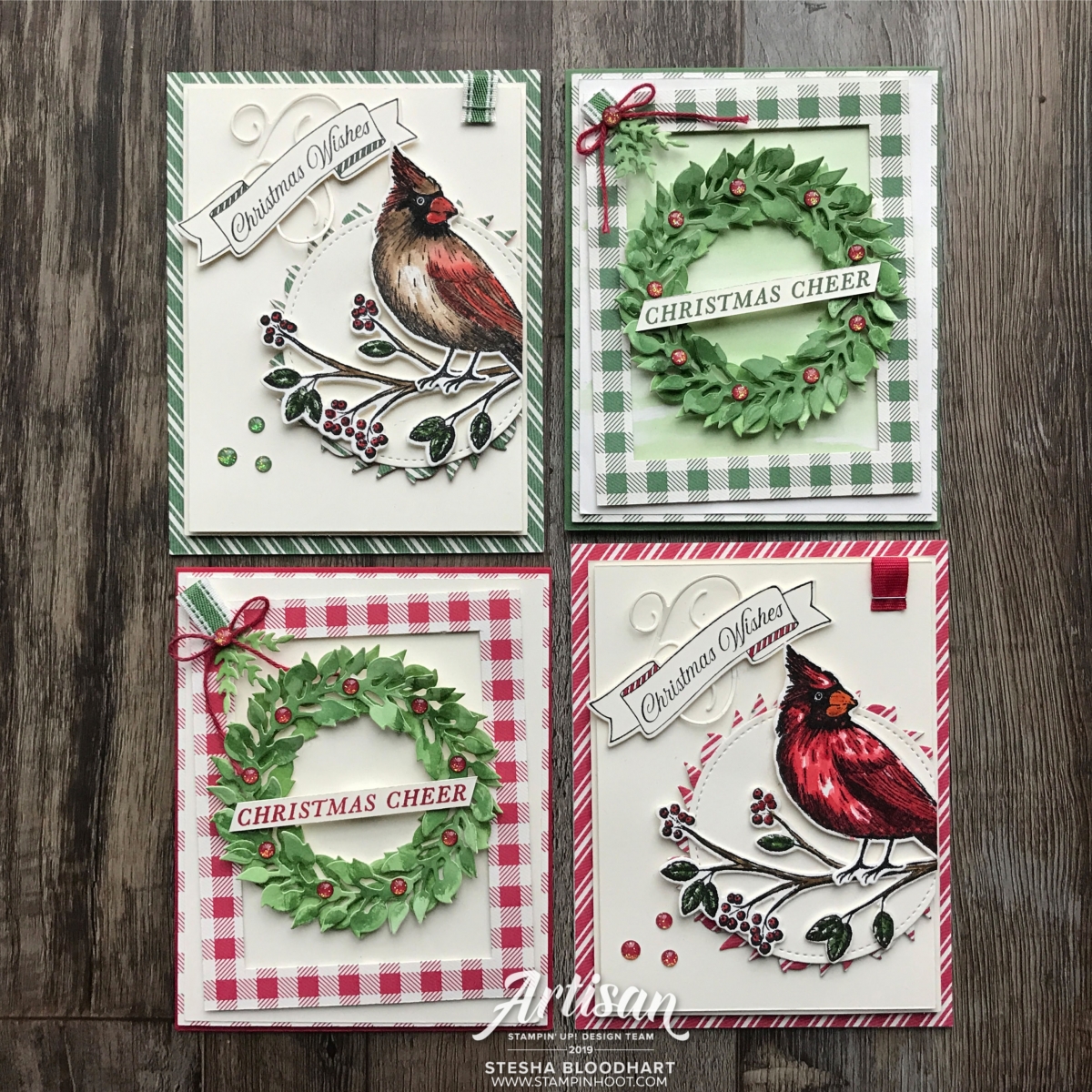 Welcome to the November 2019 Artisan Blog Hop!
The Stampin' Up! 2019 Artisan Design Team has so many amazing creations for you to see!  I hope that you take the time to check out all 16 blogs!  This blog hop will feature creations using products from the Toile Tidings Suite! 
Every project has a different style and will inspire you in so many ways!  This is an amazing hop with so many talented Artisans! Please hop along and show some love, as we love to share our creations with you!
I know I always share my step-by-step tutorials with you, but unfortunately, today I will just be sharing my photos and a few pointers.  (I am traveling and I didn't bring my cards with me to measure, whoops!) 
I wanted to show off the lovely Toile Tidings Designer Series Paper.  It's coordinating colors are Garden Green, Real Red, and Very Vanilla!  Very classic Christmas!  So I created four cards, two Garden Green, and two Real Red, both with a Very Vanilla canvas. 
The cardinals were stamped in Jet Black Stazon Ink and colored with Classic Inks and an Aqua Painter. 
The Toile Tidings Suite Bundle, Item #153329 gives you a coordinating selection of products with one simple purchase. It includes both stamp set and tool bundles at 10% off plus one each of the other items listed. Also available in French and German.
The Toile Tidings Suite Bundle includes
* Toile Christmas Cling Stamp Set (10% off)
* Christmas Cardinal Dies (10% off)
* Tidings All Around Photopolymer Stamp Set (10% off)
* All-Around Wreath Dies (10% off)
* Toile Tidings Designer Series Paper
* Toile Tidings Gift Wrap
* Garden Green 3/8″ (1 cm) Double-Stitched Ribbon
* Real Red 1″ (2.5 cm) Ruched Ribbon
* Toile Tidings Glitter Enamel Dots
Add ink, cardstock, and adhesive to complete your project.
I created a male and female cardinal (one of my FAVORITE) birds…the female is my colors, you would see me wearing Soft Suede and Calypso Coral just like the female cardinal! 
These two cards use the Tidings All Around Bundle.  I applied a watercolor wash of Garden Green Ink with an Aqua Painter onto a piece of Shimmery White Cardstock.  I then cropped the wreath out, added some depth of color with another round of the Aqua Painter, then embellished with the Toile Tidings Glitter Enamel Dots. 
These two cards also helped get my #madforplaid fix! 
Below is a grid of photos showcasing the creations from the 2019 Artisan Design Team.  Be sure to hop along to gain oodles of inspiration for the Toile Tidings Suite of Products.