Varied Vases Bundle : Pals Blog Hop – May 2018
Welcome to our Pals Blog Hop, May 2018. This month we'll be "Stepping Up with Textures or Techniques." What's that? Projects that are "stepped up" by using textures, such as embossing folders, or fun techniques. Who knows, maybe both! Join us in the fun while we inspire you to step-up your creations.
Varied Vases Bundle and the Masking Technique!
You may be starting the hop here or coming from a previous Pal's blog. Either way, you've come to the right place. You'll find the full line-up below to help you move, or "hop" along from Pal to Pal.
Today's card is showing off several new products:  The New 2018-2020 In-Color Stampin' Pads & Cardstock (available now!) and also the FABULOUS Varied Vases Bundle (available June 1st) that was inspired by Mary Fish, Million Dollar Sales Achiever, my friend, and upline!  I cannot wait to play with this bundle more!  There are 34 amazing images and sentiments to use for so many different occasions!
Step-by-Step Instructions:
With a Stampin' Trimmer, cut a piece of Blueberry Bushel Cardstock to 5 1/2″ x 8 1/2″.  Score and fold at 4 1/4″.
Cut a piece of Watercolor Paper to 4″ x 5 1/4″.
Use a Stamparatus to stamp the three vases outline in Black StazOn Ink onto the Watercolor Paper. Stamp again onto the top of a post-it note and snip them out using a Paper Snips.
Place the post-it note images over the top of the previously stamped images to mask them.  Place and stamp the vases as shown (using the Stamparatus and Black StazOn).
Stamp the Birthday Wishes Sentiment in the upper left corner using Black StazOn Ink. Tip: When stamping on Watercolor Paper, sometimes you need to stamp the image twice to get full coverage.  The Stamparatus is perfect for placing the image and stamping exactly where needed to make your image coverage perfect.
Stamp a second set of the 3rd and 5th (from the left) vases & flowers in Staz-On Ink onto Watercolor Paper.  Snip them out (closely) with a Paper Snips.
Color all images with an Aqua Painter and the All-New 2018-2020 In-Colors:  Blueberry Bushel, Lovely Lipstick, Grapefruit Grove, & Pineapple Punch.
Add a bit of shading below the vases with an Aqua Painter and Smoky Slate Ink.
Adhere the 2nd set of images over the top of the original image with Stampin' Dimensionals.
Just a few short weeks before the Stamparatus will be available to order!  It will launch with the New 2018-2019 Annual Catalog! I am starting to use it a lot more than when I first got it and am loving the benefits it brings to stamping! Get it on your wish list!
This was my first go-round with the New In-Colors and I have to say, I have fallen for them!  Their bright and cherry tones bring a smile to my face when I see them combined on a card.  I have yet to use the green shade: Call Me Clover, but I am certain it will be used on a soon-to-be papercraft creation!  Stay tuned!
My tip for watercolor:  I wanted my vases to have a shading effect, so I started with a very light application of Blueberry Bushel that covered the entire vase.  I slowly added more color to the left-hand side of all vases, lightly dragging the color to the right.  The result is a beautiful ombre look! Blue is my favorite color so Blueberry Bushel is now at the top of my list.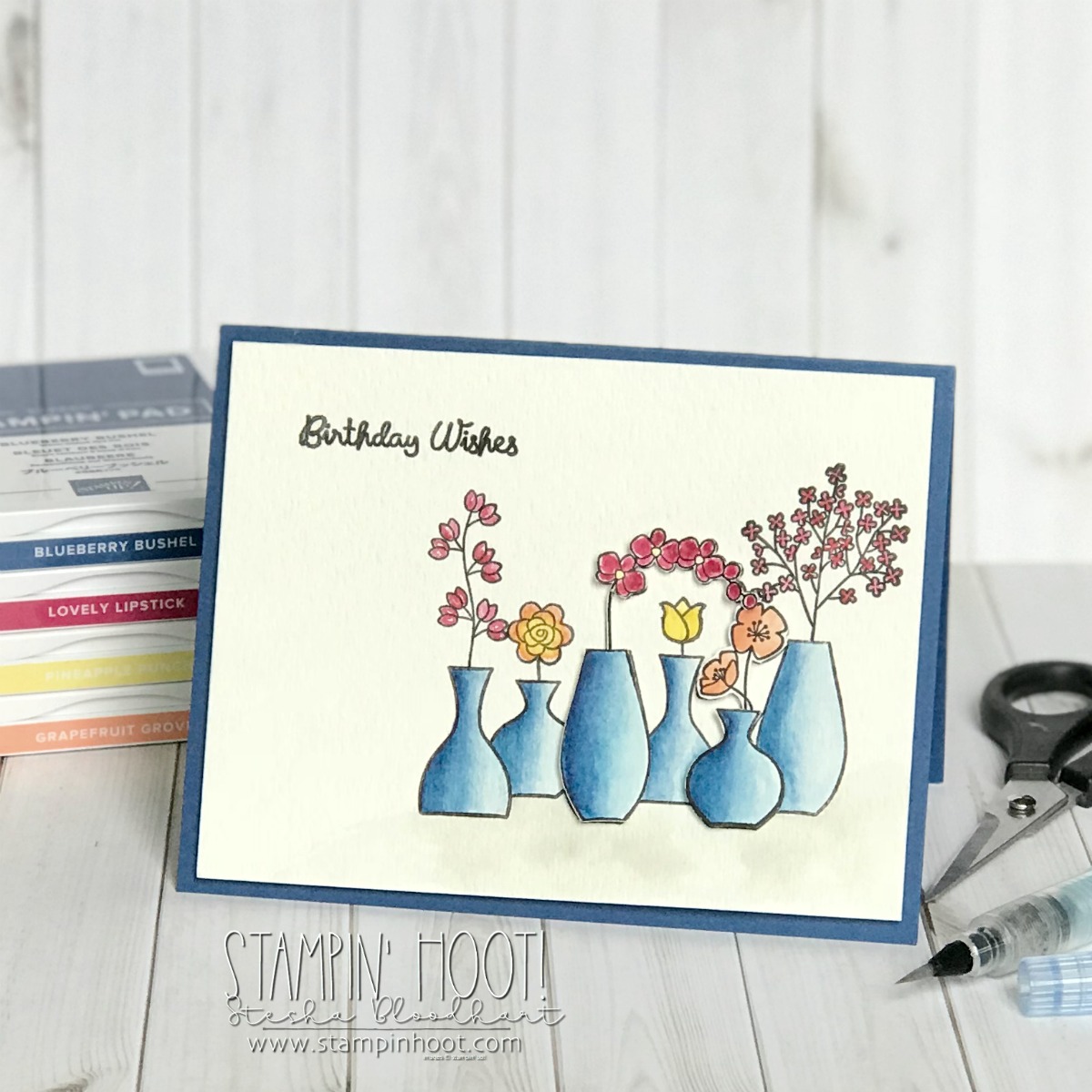 Now it's time to see how the rest of the Pals are Stepping up with Textures or Techniques. Please use the Blog Hop Line-Up below to move from blog to blog. Don't forget to show us some love by commenting on our creations.
Mark your calendars for June 13, 2018 where we feature projects for Babies, Birthdays and Brides. You'll probably even see products from Stampin' Up!s All-New 2018-2019 Annual Catalog. Don't miss it!
Blog Hop Line-Up: