An Emboss Resist Sympathy Card for Tic Tac Toe Challenge No. 003 #tttc003
The New Tic Tac Toe Challenge is helping me tremendously with incorporating techniques and supplies that I don't always think of. I have to say that I am so excited it is taking my paper crafting to new levels. I have seen several creations that have incorporated the Emboss Resist technique and have always thought…'I should try that'…but never took the time to implement it until now!
For this week's challenge, I picked the row circled in blue (shown in the TTT challenge board above). Blue, Twine and Rectangle. Pacific Point is one of my favorite Stampin' Up! colors; all you have to do is take a look in my closet and 1/4 of my wardrobe is royal blue. So when I took a look at this week's board and saw blue, I had to start there. Then I saw twine, and since I tend to add twine to almost all my creations, I decided to add in the rectangle to create my Tic Tac Toe.
I usually like my stamped images to be clean and with no missing ink…this isn't the case on this card. When stamping on watercolor paper, you really need to care and precision to get a nice stamped image. I didn't want this embossed image to be perfect, I wanted to blue watercolor ink to work its magic so when I went to heat emboss the white powder and noticed that is had pockets of missing ink, I thought it was perfect for the look I was going for.
Although the card has a wow factor, it was fairly simple to create and didn't take a lot of time.
Card Details:
Card Base: Whisper White Thick Cardstock cut to 6 in x 8 in and scored / folded at 4 in to create a rectangle, which was a requirement of the challenge..but I think it worked well with the layout I chose. I actually stamped my layout first and then built the background off of it.
I took a piece of Pacific Point Cardstock and cut it 1/8 in (3.875 in x 5.875 in) smaller than the card base, then adhered it Snail Adhesive.
The stamp set I used on this card is Flourishing Phrases. The two floral images were stamped with Versamark onto Watercolor Paper, covered in White Stampin' Emboss Powder and then melted with the Heat Tool. Prior to stamping the images, I ran the Embossing Buddy over the Watercolor Paper to remove the static and prevent any stray powder from sticking to the paper. Although on this project, strays probably would have been ok.
After letting the embossed images cool, I added several layers of Pacific Point color to the Watercolor Paper with an Aqua Painter. I wanted the color to be Vibrant so I let the Aqua Painter grab a lot of ink and generously applied it with just enough water to saturate. After letting the color soak in, I then wiped the ink off the embossed image to make the white pop.
The With Sympathy Sentiment was stamped on Whisper White Cardstock, cut to size and the flagged end was created with the Banner Triple Punch.
I added the Whisper White Solid Bakers Twine and secured it with a bow. Then then final touch was applying several Glitter Enamel Dots in various shades of the blue tones.
The Watercolor Paper was adhered with Foam Adhesive Strips for an extra lift off the card base.
LOVE FREE PRODUCTS? GET A $35 BONUS! June 1 – 30. Place an order of $350 or more and get $35 in BONUS FREE STAMPIN' REWARDS! Bonus applies to individual on-line customer order, as well as a workshop host benefit. Details are shown below!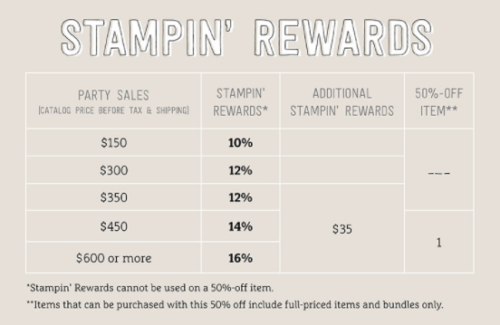 My FREE HOOT LOOT for June is Glitter Enamel Dots! See how to earn Free Monthly Hoot Loot by clicking on the photo below:
My list of products used in this post. Click on the images to shop or click on the link at the bottom to print a pdf.
Have a Hoot-a-Riffic Day!
Stesha