A Graduation Card for Global Design Project 092
I love playing along with the Global Design Project and their wonderful challenges! The designers are fabulous and today I get to CASE one of my favorites, Stampin' Up! Artisan, Steffi Helmschrott.  She is an idol of mine, I LOVE her style and creations.  So, for Global Design Project 092 | Case the Designer, I went with a graduation card…mainly because I needed one.  Although my graduation card does not do her card justice, it was inspired by her art.  I love her watercolor 'pencil-sketch' look and wanted to attempt to have the same feel with my card.  I would have loved to implement the jar into my creation, but I couldn't see it for a graduation card…and my favorite set to use for graduation is the Number of Years Stamp Set and Coordinating Large Number Framelits.
Isn't her artwork stunning? The way the bow on the jar looks 3-D just from her shading is amazing…and the jar looking like she hand sketched it…ugh, I have to try that technique.  The elements I CASEd (Copy And Selectively Edit) are the following:
Watercolor Shading (around the card elements)
Perfect White Accents (same sizes and locations)
Banner (Happy Graduation)
Striped DSP Mat Behind the Focal Layer
Card Details:
Card Base is Thick Whisper White Cardstock cut to 5.5 in x 8.5 in and scored / folded at 4.25 in to make a standard A2 sized card.
The piece of Designer Series Paper is from the Pick a Pattern DSP pack.  It had the stripes I was looking for and the color I needed (Crushed Curry). It was cut to 4.125 in x 5.375 in and adhered with Fast Fuse Adhesive.
A piece of Watercolor Paper was cut to 5.125 in x 3.875 in.  I stamped the numbers in Night of Navy Classic Ink on the watercolor paper.  I then took an Aqua Painter and pulled some of the color out so that it would create a watercolor shadow to the numbers I would be adding later.  I did the same for the Happy Graduation Sentiment on the left side.  It was adhered to the DSP with Foam Adhesive Strips to give it some extra lift off the card base.
I used Crushed Curry Classic Ink for the Numbers and stamped them onto Watercolor Paper.  I then took an Aqua Painter to blend the ink around a little more…I LOVE the result.  I then zipped it through the Big Shot with the Coordinating Large Number Framelits.  I adhered them with the all new Mini Stampin' Dimensionals.
The Happy Graduation Sentiment is from the Thoughtful Banners Stamp Set.  I cropped it out quickly with the Coordinating Classic Label Punch and adhered it with Mini Stampin' Dimensionals. I watercolored a touch of Night Of Navy to the outside of the border to add more dimension.
Perfect White Accents and the Congrats were added as final touches to the card.
The supplies needed for this card were minimal..and most are a staple in my collection…but then, I seem to say that for everything…it seems if Stampin' Up! makes a product, it becomes a 'staple' of mine.
I add a lot of photos to my post because I believe images are important to showcase the card.  Different angles help the viewer to grasp the makeup of the creation and assist with a CASE of their own.
My goal is to inspire others to create…ok, and maybe enable the purchase of product a little as well.  So, if my creations inspire you, make sure to Pin them to your Pinterest Boards for easy access.  You can do so by hovering over the picture and clicking on the  
 button in the upper left hand corner. You can see all my Pinterest Boards Here:  Stampin' Hoot! Pinterest Boards.  Note: You need to be viewing this post on my blog and not from the email in order to pin to Pinterest.
Thank you for stopping by my blog!  Feel free to sign up to receive my blog post by email so you never miss a post.  You can do so by the sign up form in the right side bar of my blog.  I have yet to send out a newsletter, but plan on doing so in the near future.
Need more graduation card ideas?  Here is a link to another from a previous blog post:  A Graduation Card Using Large Numbers Framelits!
LOVE FREE PRODUCTS?  GET A $35 BONUS!  June 1 – 30.  Place an order of $350 or more and get $35 in BONUS FREE STAMPIN' REWARDS!   Bonus applies to individual on-line customer order, as well as a workshop host benefit.  Details are shown below!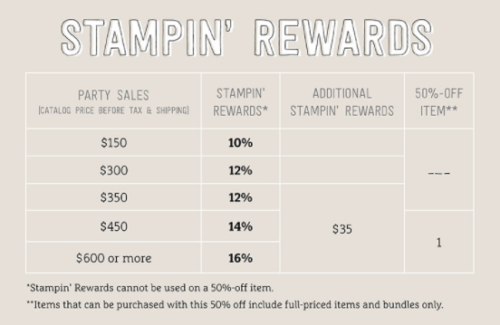 My FREE HOOT LOOT for June is Glitter Enamel Dots! See how to earn Free Monthly Hoot Loot by clicking on the photo below:
My list of products used in this post.  Click on the images to shop or click on the link at the bottom to print a pdf.
Have a Hoot-a-Riffic Day!
Stesha