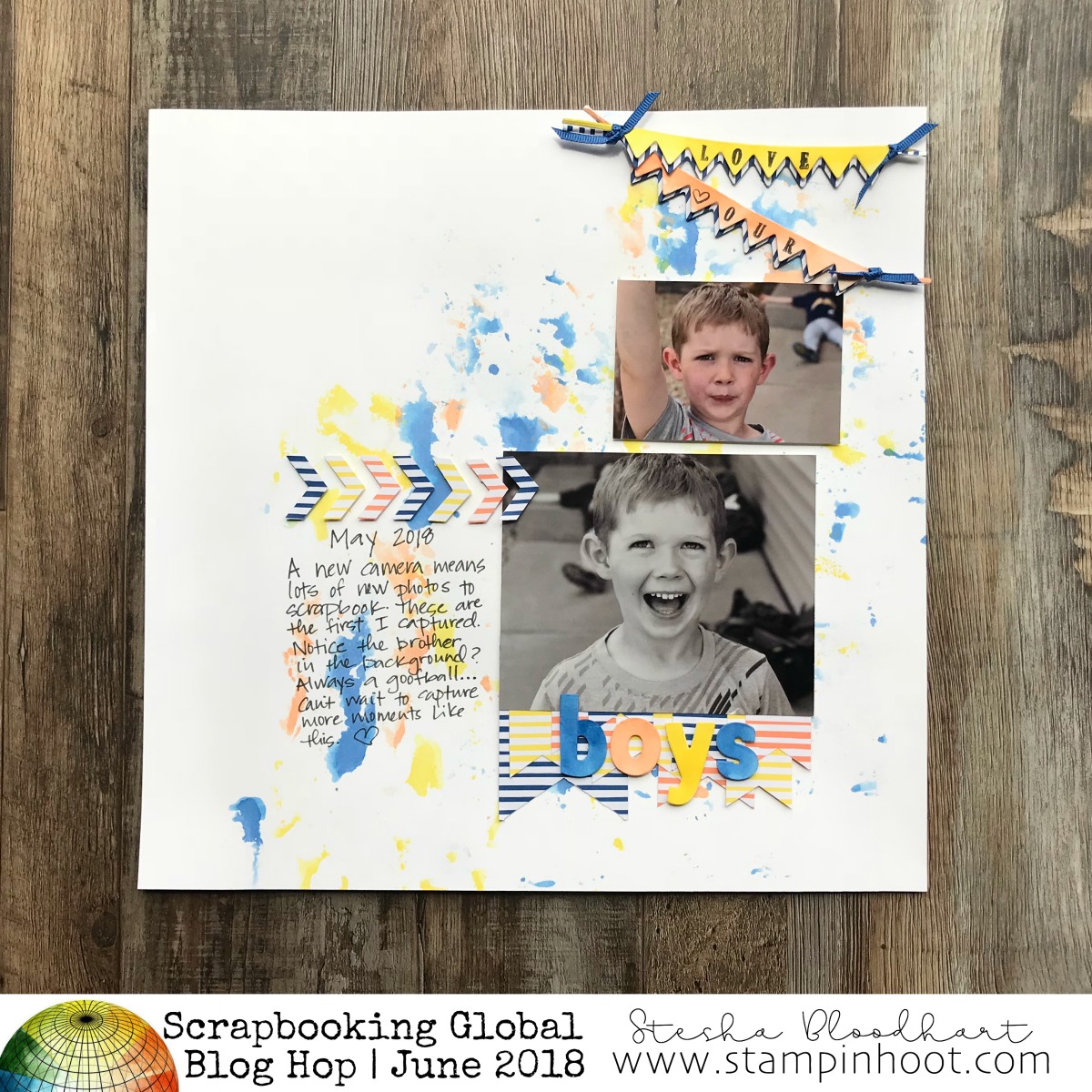 Welcome to the inaugural Scrapbooking Global – Design Team – Blog Hop. We'll be hopping once a month. This month's theme is Color Revamp Meets Black & White. If you'd like to participate in our monthly challenge and hop, you can join in the fun via our Scrapbooking Global – Stampin' Up! Facebook Group!
Step-by-Step Instructions:
Start with a 12×12 sheet of Whisper White Cardstock.
Smooch the cardstock with the following colors:  Blueberry Bushel, Grapefruit Grove & Pineapple Punch (Click here for a tutorial on smooching)
Cut various sizes of InColor 6×6 Designer Series Paper strips to the following widths: 1″, 1 1/2″, 2″.  Flag the strips with the Banner Triple Punch and arrange under the large photo as shown.  Adhere with Snail Adhesive.
Create the chevron pieces using 1″ strips of Designer Series Paper and the Banner Triple Punch.
Crop the pennant using the die from the Pick a Pennant Bundle and a Big Shot.  Crop 2 Shimmery White and 2 Blueberry Bushel Designer Series Paper.
Color the Shimmery White pennants using an Aqua Painter & Classic Ink Refills. Stamp LOVE and OUR in StazOn Ink using the letters from the Pick a Pennant Stamp Set.
Adhere the 2 pennants together (and to the page) as shown with Mini Stampin' Dimensionals.
Tie Blueberry Bushel 1/8″ Grosgrain Ribbon around the ends of the pennants as shown.
Using the Layering Alphabet Edgelits Dies, a Big Shot, and Shimmery White Cardstock, crop out "boys" letters, snipping the letters the remainder of the way with a Paper Snips.
Color the letters with an Aqua Painter and Classic Ink Refills. (Blueberry Bushel, Pineapple Punch, and Grapefruit Grove).
Adhere to the flagged banners with Mini Stampin' Dimensionals.
Use a Journaling Pen to add journaling as needed.
I am loving my new camera!  My hubby gave it to me as a combined anniversary, mother's day, birthday gift.  The pictures on this page showcase some of the first photos taken.  I got the camera out and one boy decided to play dead and the other decided to play the conquerer. At first, I struggled with color, but then I just jumped on the new 2018-2020 InColors and I think it worked out pretty well!
I am sure you have noticed how much I absolutely love the Ink Smooching Technique!  It just adds so much to a project and it is so easy to do.  I have shared a step-by-step tutorial on ink smooching and watercolor background, you can download it now by CLICKING HERE.
I tend to shy away from journaling as I am not a big fan of my handwriting, but I force myself to do it! I NEVER write straight but I have learned to embrace it!  It is me, my style and I want my boys to remember all aspects of me.  Handwriting is a lost art…handwritten letters are practically extinct, replaced by an electronic text or post.  One of the most valued things my dad left behind was a handwritten poem…so, embrace it!  It means a lot to those you love!
My boys make me smile every day!  I sure hope that my presentation of them makes you smile too…and motivates you to create memories in scrapbooks.
Now, see what the rest of the Scrapbooking Global Design Team has in store for you!  Follow the links below!
<!-- start InLinkz script --><!-- [et_pb_line_break_holder] --><!-- [et_pb_line_break_holder] --><script type="text/javascript" src="https://www.inlinkz.com/cs.php?id=783178"></script><!-- [et_pb_line_break_holder] --><!-- [et_pb_line_break_holder] --><!-- end InLinkz script -->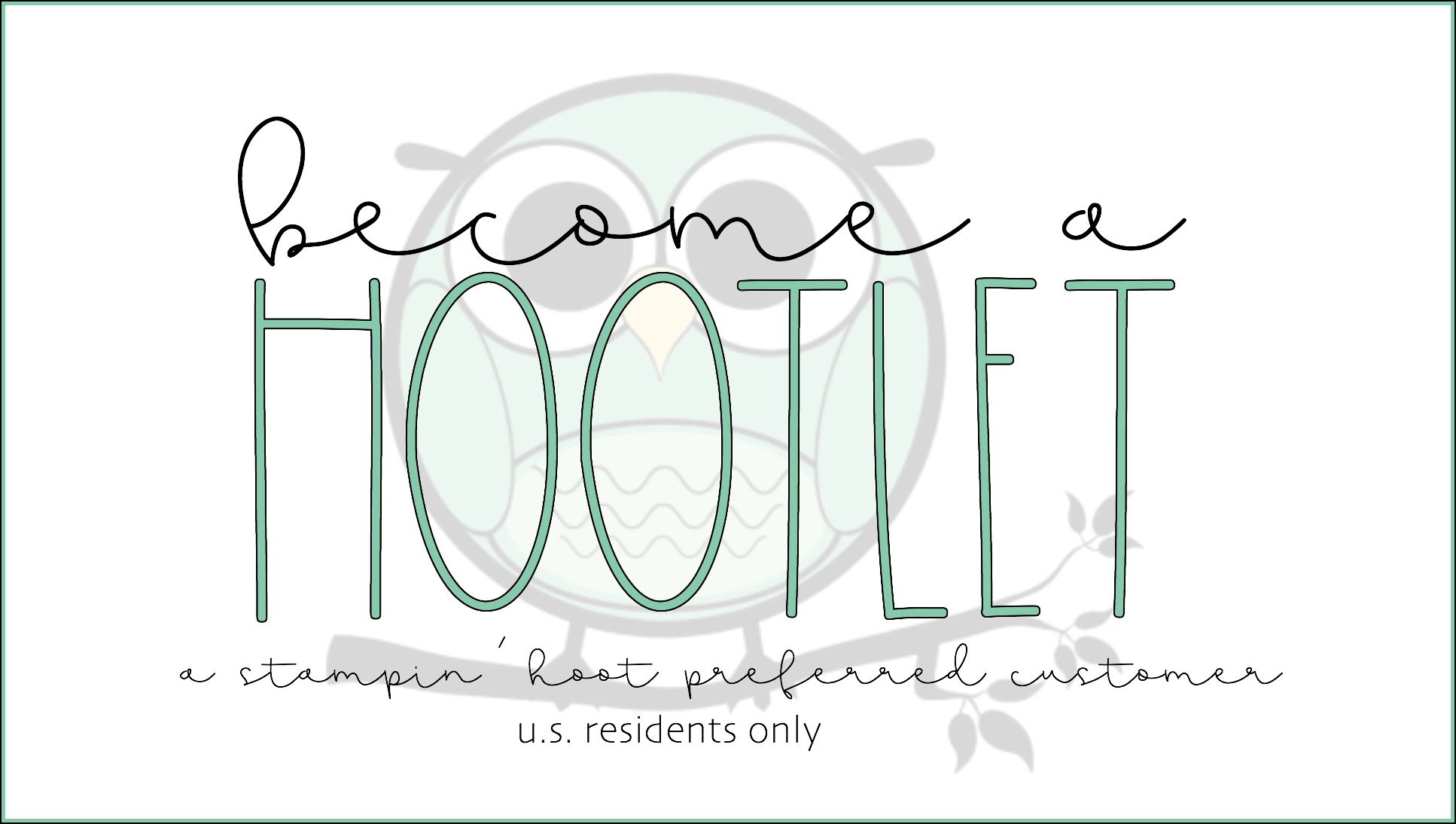 If you live in the US and currently do not have a Stampin' Up! Demonstrator that you order from, I would LOVE to be YOURS!  I spoil my customers and would love to spoil you!  Here are just a few of the benefits of becoming a Hootlet (Stampin' Hoot! Preferred Customer):
FREE Stampin' Up! Seasonal Catalogs – They will automatically be mailed to you with each new release. (Holiday Catalog and Occasions Catalog)
FREE Stampin' Up! Annual Catalogs – They will be delivered to your door, at no charge, with free shipping! This catalog is jam-packed with over 200 pages of products and ideas ready to inspire you to create!
Stampin' Hoot! Hootlet Rewards! – Want to earn more free goodies from me?  Become a frequent shopper with me, track your purchases and redeem your hoot points for a free shopping spree, valued up to $30!  Download your tracking sheet here:  Hoot Points Tracking Sheet
Click on the images below to shop my online store or click the link below to print to pdf!
<div><div><div id="a4062465-f06f-4a3a-b7e9-e0e79a316133"><iframe class="iframe-showcase" src="https://mystampinblog.com/Showcase/Details/544d3489-cf6f-4952-8675-b34dd75eaf13?layout=Tiled&showSku=True&showPrice=True&showDownload=True&transparent=True&bordered=True&hFontHeight=12&rFontHeight=12&imageHeight=119&middleContent=True&supplyListId=6fbf4cde-99e6-46e2-8bea-892b2ceb34ab" frameborder="0" scrolling="no" allowtransparency="true" style="width:100%"></iframe></div><script src="https://mystampinblog.com/Script/ShowcaseDetailsScript"></script></div></div>
Monthly Hoot Loot!
Place an online store order valued at $50 or more (before shipping and tax), enter the host code CS243K4H and you will earn YOUR CHOICE of a Current/Available CLASSIC STAMPIN' PAD & INK REFILL!