GDP144 : Meet Very Vintage Hostess Set
Ok, so I am a little late to the game!  Very Vintage gets it's debut on my blog today!
The Global Design Project is casing the extremely talented Charlet Mallet this week!  I wasn't able to get my project done in time for the Monday Go Live deadline, but I couldn't let the chance to CASE Charlet pass me by. I decided to ink up the Very Vintage Hostess Set and create a quick birthday card!
Step-by-Step Instructions:
With a Stampin' Trimmer, cut a piece of Very Vanilla Thick Cardstock to 4 1/4″ x 11″.  Score and fold at 5 1/2″.
Stamp the lace image in Grapefruit Grove Ink as shown.
Stamp three rows of the vine image in Mossy Meadow Ink as shown.
Cut a piece of 6×6 Grapefruit Grove Designer Series Paper to 1 1/2″ x 5 1/2″.  Flag the end with the Triple Banner Punch. Adhere with Stampin' Dimensionals.
Cut a piece of Whisper White Cardstock to 2 3/4″ x 3 3/4″.  Color the stamp with Grapefruit Grove & Mossy Meadow Stampin' Write Markers. Huff on the stamp to re-moisten the ink and stamp.  Adhere with Stampin' Dimensionals.
Stamp the Happy Birthday sentiment on Very Vanilla Cardstock.  Cut to size and adhere with Mini Stampin' Dimensionals.
Secure Linen Thread within a Grapefruit Grove Tinted Faceted Button. Adhere with a Mini Glue Dot.
I have to say that Grapefruit Grove is becoming one of my favorite colors!  I continue to grab it for my creations and I love the soft feel it portrays. I wasn't active when Mossy Meadow was an In Color, so I am happy that I get the chance to use it on my creations now!  It is a beautiful green with a vintage feel.
The Very Vintage Stamp Set is a Hostess Exclusive.  Although you don't have to "host" a party to qualify for this set, you sure can!  Online parties are always welcome!  Have a large wish list?  Spend $150+ and you can redeem this stamp set as part of your Stampin' Rewards!
I normally do not mix Vanilla and White cardstock, but it worked well on Charlet's card, so I decided to embrace it and use it on mine as well.  I think it makes the focal image pop!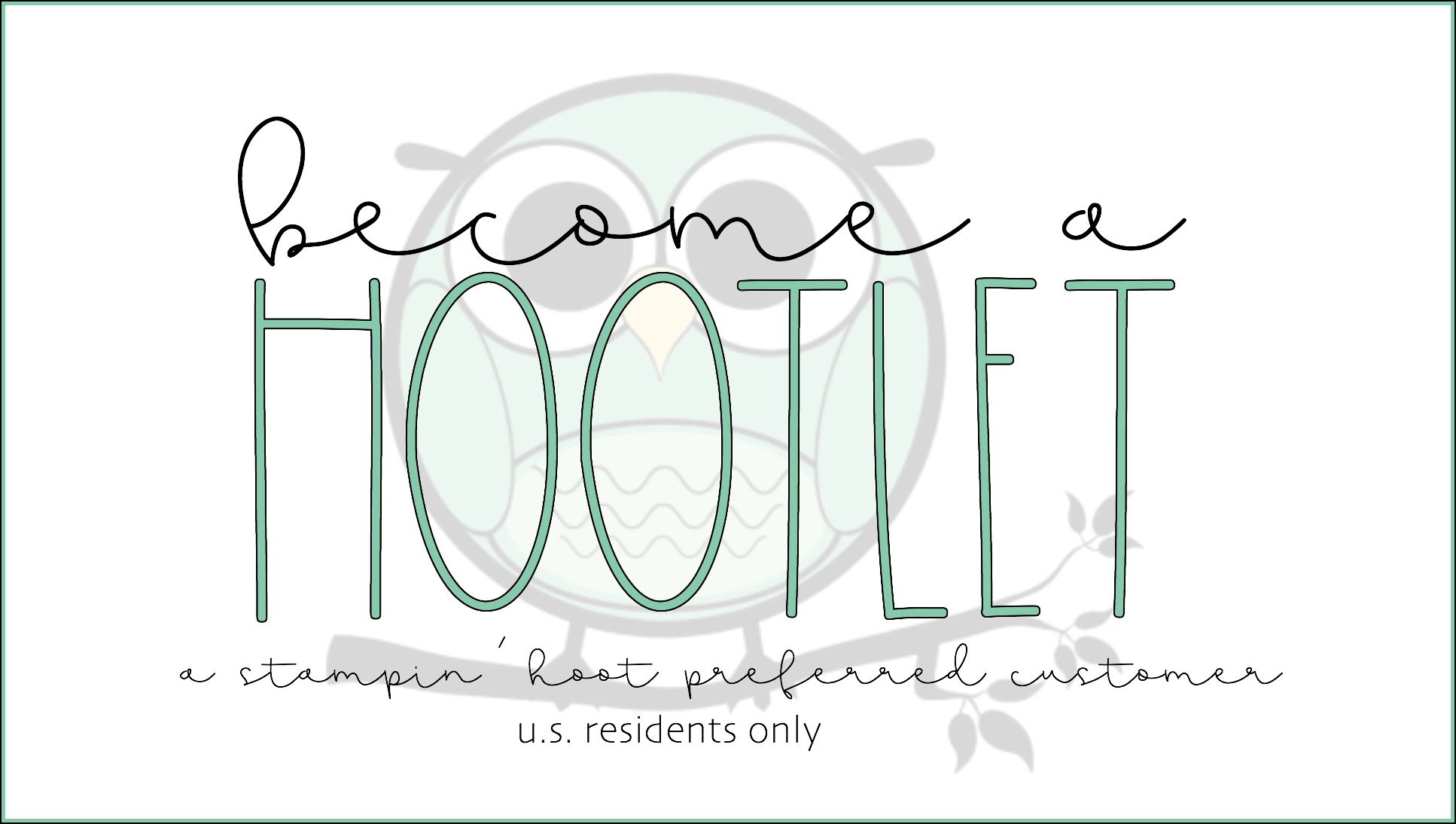 If you live in the US and currently do not have a Stampin' Up! Demonstrator that you order from, I would LOVE to be YOURS!  I spoil my customers and would love to spoil you!  Here are just a few of the benefits of becoming a Hootlet (Stampin' Hoot! Preferred Customer):
FREE Stampin' Up! Seasonal Catalogs – They will automatically be mailed to you with each new release. (Holiday Catalog and Occasions Catalog)
FREE Stampin' Up! Annual Catalogs – They will be delivered to your door, at no charge, with free shipping! This catalog is jam-packed with over 200 pages of products and ideas ready to inspire you to create!
Stampin' Hoot! Hootlet Rewards! – Want to earn more free goodies from me?  Become a frequent shopper with me, track your purchases and redeem your hoot points for a free shopping spree, valued up to $30!  Download your tracking sheet here:  Hoot Points Tracking Sheet
Click on the images below to shop my online store or click the link below to print to pdf!
<div><div><div id="984ce39e-acb7-41d2-800e-99d57a1e5a68"><iframe class="iframe-showcase" src="https://mystampinblog.com/Showcase/Details/5ab8161e-df1e-44d0-8086-87564cdc69ab?layout=Tiled&showSku=True&showPrice=True&showDownload=True&transparent=True&bordered=True&hFontHeight=12&rFontHeight=12&imageHeight=119&middleContent=True&supplyListId=3c8e86fb-5ec5-4bf7-a1ff-034b1b864433" frameborder="0" scrolling="no" allowtransparency="true" style="width:100%"></iframe></div><script src="https://mystampinblog.com/Script/ShowcaseDetailsScript"></script></div></div>
Monthly Hoot Loot!
Place an online store order valued at $50 or more (before shipping and tax), enter the host code CS243K4H and you will earn YOUR CHOICE of a Current/Available CLASSIC STAMPIN' PAD & INK REFILL!